Virtual Disney Wine & Dine Half Marathon Weekend Blog Hop
"It is with deepest pride and greatest pleasure that we welcome you to"… your RACE!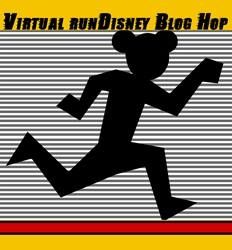 Best Hotel Accommodations~ Best Hotel Accommodations Tricia Lynne Pixie Dusted Treasures


Tips for Running Your 1st runDisney Race~ Karen Abshire Seal … Just Me & My Running Shoes


Race Costuming ~ Magically DonnaKay Guru Donna Kay
The West Coast Advantage ~ Sunny Delaney The Adventures of Team Wil-Sun
Pacing & Fueling for a Night Race ~ Marge Burzynski Gerwels tiny bits of magic
iGiftBag ~ Juliana Calhoun 4 Well Rules
What to Carry While Running ~ Beth Bahr Disney With Children
Event Transportation ~ Sarah McDowell Sparkly Runner
Best Runner Eats at Epcot International Food & Wine Festival ~ Didi Marie DIStherapy
Mickey's Jingle Jungle 5K ~ Meranda Steel Fairytales and Fitness
Disney Wine & Dine Half Marathon ~ Meg Pudzianowski Runaway Royalty
Celebrating 5 Years of Wine & Dine Bling ~ Christine Cheng The Polka-Dotted Mouse
Wine & Dine Finish Line Party ~ April Shuping Run the Great Wide Somewhere
I'd like to reserve a seat at the head of our table for our co-host Meranda (@fairytalesnfit Fairytales and Fitness)! A special thank you for each of our authors here, and for all 75 authors from previous hops; we will never look at a runDisney event again without your savvy tips, tales and tuteldge. Magnifique!!
"Course by course, one by one." Hop on!
Virtual Walt Disney World Marathon Weekend Blog Hop
Virtual Tinker Bell Half Marathon Weekend Blog Hop
Virtual Disney Princess Half Marathon Weekend Blog Hop
Virtual Expedition Everest Challenge Blog Hop
Virtual Disneyland Half Marathon Weekend Blog Hop
Virtual Twilight Zone Tower of Terror 10-Miler Weekend Blog Hop