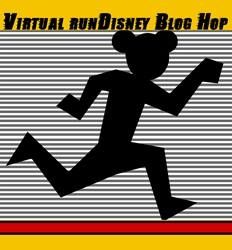 Virtual Twilight Zone Tower of Terror 10-Miler Weekend Blog Hop
"Drop in" on these supernatural authors for your virtual race experience.
Get set for thrills, chills (and a few hills)!
Best Hotel Accommodations~   Krissy Murphy    Shiawase Life
Training/Pacing~   Pamela Potter Frost~    Wife Mother Runner
Race Costuming~   Gail Gudehus Savidge~   Run All The Races
Tips for Running Your 1ST Race at Walt Disney World~   Blair Toombs~   runFIERCELY
Transportation~   Kristen George Smith~   The Smith Summary
runDisney Health & Fitness Expo~   Pam Keenan~   We Run Disney
Fueling for a Night Race~   Julie Smith Franklin~   Run. Walk. FASTPASS. Repeat.
Pacing Your Day for a Night Race~   Anne Martin~   Outrunning the Fork
What to Carry When You Run~   Becky Ginther~   Disney in Your Day
gEAR Bag Check & What to Pack~   Melanie Adams~   My Glass Sneaker
Disney Happy Haunted 5K Trail Run~   Didi Marie~      DIStherapy
A Non-Runners Guide to the 10-MILER~   Kimberly Kahl    Magical Memories With the Mouse
The Twilight Zone Tower of Terror 10-Miler Thrills~   Didi Marie    DIStherapy
Characters on the Course~ Kimberly Torres Markey~   Maker Mother Marathon Runner
Medals~ Michael E. Kirby    runFiercely
Disney Villains Hollywood Bash~   Shannon McKinney Dill~   Purveyor of Pixie Dust
A huge thank you for each of our 15 authors- you have prepared us well for things that go bump in the night.  A special thanks to our operator, Julie Smith Franklin @runwalkfastpass; she safely steered us through the fifth dimension and away from that 13th floor!
More Virtual runDisney magic:
Virtual Walt Disney World Marathon Weekend Blog Hop
Virtual Tinker Bell Half Marathon Weekend Blog Hop
Virtual Disney Princess Half Marathon Weekend Blog Hop
Virtual Expedition Everest Challenge Blog Hop
Virtual Disneyland Half Marathon Weekend Blog Hop