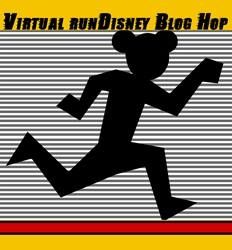 ~ A special thanks to runner/writer Brandi St. John for this post!






In 10 short days, thousands of Rebel runners will converge on Disneyland in Anaheim to participate in the runDisney Star Wars Half Marathon Weekend. While many runners believe all the planning takes place when training for the races, I am here to help you make a plan for shopping at the very popular runDisney expo. If you have never been to a runDisney Expo, you are in for a surprise. Be aware that sometimes it can bring out the "dark side" in some runners, but if you can go in with a plan and realistic expectations, than you should be able to leave there happy and probably a few dollars down.
Race Merchandise-The first thing to be aware of is that if there is something that is race specific that you want, you need to be there the day the Expo opens, or get with someone who will be, so they can shop for you. The lines start forming to get in the Expo up to 3 hours before it opens on the first day. Please note, this is not the line to get your bibs, or pre-ordered items. This is the line to enter the Expo to shop for race gear. Once you get in the merchandise area, you will find all kinds of items from race shirts and hoodies to hats, magnets and wine glasses (these last two items go very fast). A few days before the race, runDisney will send out a post showing what the merchandise will look like and you will be able to see what goodies you want to buy.
New Balance Shoes
– These are not your everyday running shoes. New Balance and runDisney will debut their newest designs for shoes this week at the Walt Disney World Marathon Weekend. If they are something you can't live without, get them at the Expo. As a runner, you have the option to sign up on the New Balance queue on any day of the Expo starting at 6 am. All you need is your bib number, not your actual bib. They will text you what time to show up at their booth and you can purchase the shoes. While you can buy these shoes from EBay at a later time, you will pay double for them. The great thing about races at Disneyland is the Expo is not far from either park or Downtown Disney District, so once you get the text message you can head back to get your shoes. I, personally, am hoping for a last minute Star Wars-themed shoe. (You can find the 2016 Limited Edition New Balance runDisney Collection
HERE
.)
Dooney and Bourke Purses – If you are interested in the Star Wars Dooney purses, there is a line for you too. This line will be down where you pick up your bibs, not where the race merchandise is located. Again, if this is something you have to have, then divide and conquer. This line doesn't normally move very fast and if you want something in the race merchandise area too, you need to decide what line to choose first…I know, life as a runDisney addict is tough! If the purse is something you want to think about, sometimes Disney will send the leftovers to certain stores in the park after the Expo, again though, it's not a guarantee.
Other Expo Merchandise – Should you have any money left after shopping for the three items listed above, then you will have plenty of booths to shop. In the other part of the Expo is several booths selling running gear, shoes, headbands, etc. Everyone has their favorites, so my advice is look at the event guide and make sure you stop by some of yours. There are vendors selling medal racks and bib displays, if you are looking for something unique. Bee Cause charms sells cute charms for you running shoes and Raw Threads will also have a booth with any clothing needs you need covered.
Some important things to remember when attending the expo are these two things:
1. The race merchandise section is not for runners only. There are many EBay people who go in there and buy large quantities of items to sell for double and triple the original cost. It is a constant complaint I know runDisney hears from all of the runners, but so far, they have not changed that yet.
2. Race merchandise is expensive. If cost is important, pick one or two things you know you would love to have to commemorate your runDisney experience. If you have an annual pass, you can use it for race merchandise only, not the New Balance shoes.