Look down from the Epcot Monorail (Yellow, perhaps) and you will see them. Sitting in the shadow of Spaceship Earth, theses sculptures are the first welcome you receive when stepping into Future World. Atrocious to some, modern art to many, the Leave a Legacy Garden in Epcot represents Walt Disney World's homage to the 21st Century. Of course, if yours is one of the nearly one million faces etched on its walls, it is something far more personal.
Though not truly an attraction, this granite and steel plaza is a standout for our family. The 30 megaliths were designed by veteran Disney Imagineer John Hench, who began his career with the Company as an artist in 1939, helped design Disneyland, and was the visionary behind many of the attractions at Epcot; principally Spaceship Earth. His intent was to realize the past, present and future of the Park through this dramatic stone time capsule. Leave a Legacy joined Illuminations 2000: Reflections of Earth, Millennium Village, and Tapestry of Nations as the focal points of Epcot's Millennium Celebration.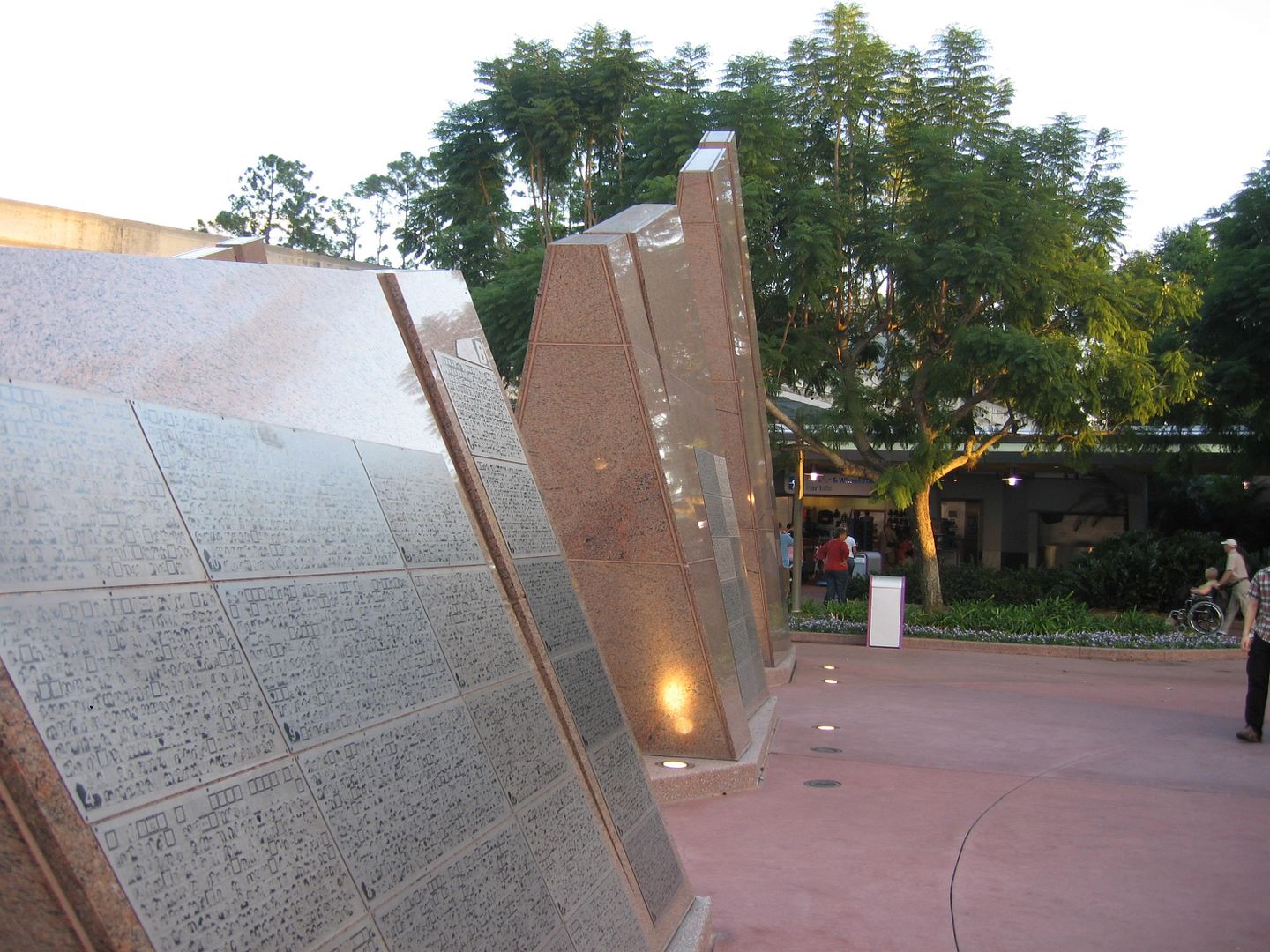 Used with permission of WDWmemories.com
We were so disappointed that we had not participated in the earlier "Walk Around the World" commemorative brick campaign (though those hexagonal blocks started at $85 per paver in 1994 and went as high as $250 thereafter), that in the fall of 1999 we jumped to be one of the first families to buy our 1 inch metal square.
This bill was far more economical; $33 for one face, $38 for the maximum of two faces (minus the 10% discount for Annual Passholders and Magic Kingdom Club members). My boys had their images taken through the "magic of digital photography"- think 1999- and we were given information that would lead us to our slice of Walt Disney World real estate on each returning trip.
Though we are not soarin' through the air, nor speeding along at 65 mph, my family's favorite place in Future World is one that plants our feet firmly on the ground. The ritual of checking "our spot", and taking the required photo update gains more importance as the years pass.
I didn't say that THEY take it seriously- yet.
I believe that Walt Disney himself would have wholly endorsed this project within his Experimental Prototype Community of Tomorrow; one that embraces the past, but is ever forward thinking. The critics are constantly abuzz with rumors of the plaza's destruction, but I should share that our 1999 contract stated that "the sculpture may be replaced or relocated within Walt Disney World at any time, and that the image may be permanently removed on or after the 20th anniversary of its installation." Considering this program ended on June 16, 2007, my math says that the 550,000 tiles will be around for a while. I'm secretly hoping that my boys can show off those mugs for their kids one day. Only then will they truly understand what binds the past, present and future in the World.
Thank you for joining me today. Your next stop on the Magical Blogorail is Delightfully Disney.


Here is the map of our Magical Blogorail should you happen to have to make a stop along the way and want to reboard:


1st Stop~ Magical Mouse Schoolhouse
2nd Stop~ Return to Disney
3rd Stop~ Magik Mouse
4th Stop~ DIStherapy
Final Stop~ Delightfully Disney