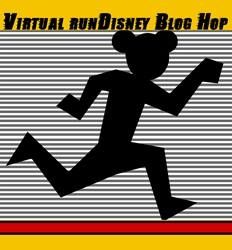 ~ A special thanks to runner/ writer Jennifer Young for this post!
Are you one of those inspirational runners in Corral A who will sweep across the finish line, barely winded, approximately 5 minutes after I've crossed the starting line? If you are, feel free to keep reading just for kicks, but this article probably isn't for you. For everyone else, I'd like to share my training and race day strategies.
So far, I have run six half-marathons and many shorter races. I've run them all using the Galloway method. Jeff Galloway, a former Olympian, is the official runDisney training consultant. He offers a program that is designed to work no matter what fitness level you are starting from. His plan utilizes regular walking breaks throughout the run. Set your run/walk intervals wherever you are comfortable at the beginning of your training plan and work over time to increase your endurance. A great place to start for beginning runners is 1 minute of running followed by 1 minute of walking. The recovery you will experience during your walking time will allow you to keep moving a lot longer than you might think you are capable of.
Jeff Galloway also prepares training plans and posts them to the runDisney site for every event. They are usually 18 to 20-week plans that include two 30-minute maintenance runs and a long run each week. The long run distances increase until you are at the race distance you are training for. You can also download one of his apps to support your training. It isn't necessary (and the apps are not free) but I find it very useful. It's nice not to have to think about when to walk and when to run if I'm feeling exhausted. In his coaching audio, Jeff will suggest using a mantra as motivation. He suggests things like, "With every mile I'm getting stronger" but I like to stick to the classics, "I think I can, I think I can" and "Just keep swimming".
So you've trained. Now what? Every article about running will tell you not to try anything new on race day, so it's important to test your race day strategies in advance. If this means taking a long run around your neighborhood in a Darth Vader mask and tutu, well, who really cares what the neighbors think. More importantly, how will you stay hydrated, energized and injury-free? I've learned (the hard way) that I can't eat before a race, but I also need fuel to get through a longer course. For me, Gel Shots and Gu do the trick. You might be able to handle food without the dreaded tummy trouble, but maybe not. Test it out on your long runs so there won't be any race day surprises. Will you be carrying your own water or relying on water stations along the course? Is your costume heavy? Does it limit your motion? Do you need to wear a knee brace? Only you can answer these questions. Just be sure you know the answers before race day.
The last thing I want to tell you is to enjoy every minute of your time in the Disney Parks. This is not the race to try and achieve a PR. Slow down and take in the sites. It's what you've paid for. Stop and pose for a photo in front of the castle or with a Storm Trooper. Make every mile magical. I'll see you there!