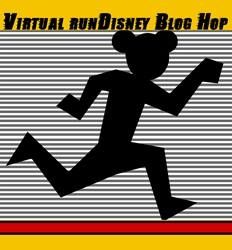 It is my absolute pleasure to welcome guest blogger, Kimberly Kahl, to the Virtual runDisney family! Visit her on Facebook, Follow her on Twitter at @DisneyGalKimK, and most urgently, chEAR for her on May 3rd!!




The Expedition Everest Challenge Scavenger Hunt. It's what made me decide to run the EEC as my second-ever Disney run and third-ever race. It also scares me. One would think that as a non-runner, the 5K and obstacles would scare me, but I know I've got that covered. Instead, prerace I'm thinking, "What if I can't solve one of the clues?" and "What if I can't find the next location?"
Fortunately, while challenging, the clues aren't necessarily difficult. It is important, though, to remember that the clues may not be Disney-related so don't necessarily look for words like Mickey or Pluto in the answer. Also, remember to think outside the box and know that they do give you a hint to find the answer. For example, one of the clues from the 2012 EEC stated,
"If you want to climb quickly – and solve clues – take a rest period from time to time, because it's what comes after the period that's important. Climb with passion. Awaken your senses. Love every minute of it. Mind your manners with other hikers. Never be rude. Enjoy yourself. Stop to breathe and appreciate your surroundings. Success will be yours."
The key to this solution is given. "It's what comes after the period that's important," so taking the first letter of each sentence after that clue, as in taking each letter that comes after a period, you get CALMNESS. The answer to the clue is calmness.
In 2013, all of the clues had to do with a "direction," which was stated in the first clue. One had to understand, however, that the clue specifically meant an actual direction. For example, one of the clues said,


"NsrRsutgHdhownStup
eOaoiTtwhEwAesTtx"


Making it more confusing, some of the letters were in different colors, making it appear that they were important when they weren't. Fortunately, the clue said, "Confused as to which letters to pick to spell out the answer to this clue? 'Wear'ever shall you look? Let the staff here provide you with a "heads up" and you'll find it if you search high and low. Looking at those letters again, if you only look at the "heads up" or uppercase letters and then search high and low putting them in order going left to right but using both rows, you'll get "NORTHEAST."
Of course, prior to the race, runDisney sent all racers a sample clue, which I've pictured here. Reading "Which side are you on?" immediately made me think of the number of sides of each polygon containing a letter. Then I "count(ed) on it," putting the sides in order with the triangle with only 3 sides to the left and the octagon with 8 sides to the right. By doing this, I got the answer to the clue, "TRAIL."


Now that we're both less nervous about solving those clues, which will be given to each individual runner or one per team at the end of the 5K portion, there are some other important things to remember during the scavenger hunt.


First, it's a good idea to familiarize yourself with the layout of Animal Kingdom. While you have to solve each clue, you can only receive the next one by going to the location located at the bottom of the clue. You'll really slow yourself down if you're standing in Asia and don't know a quick way to the next clue location in Pizzafari Courtyard. All of the clue locations have been provided on the racemap highlighted in blue: Scavenger Hunt Start (by the 5K Finish Line), Palm Courtyard, Pizzafari Courtyard, Africa, and Asia.


Second, per the official rules, you must solve the clues yourself. The final race instructions specifically state, "Teams and individuals must complete the Scavenger Hunt on their own and may not accept help from other teams, individuals or outside sources." While I don't know how strict they are on this policy, it would probably be best to ask for hints from the guides who will be available. They won't give you the answer, but they will definitely help you out with little hints.


Finally, have fun with it! You can run a 5K anytime, but how often do you get to do it inside Disney's Animal Kingdom with a scavenger hunt at the end?
Girl, you have done your homework! You are going to scale Everest in one bound; and we'll be following your feat all the way. Happy scavenging!!