How is it possible that our 20 year (er, day) journey has come to an end?? 20 Days to 20 Years has featured the highs and lows, excited openings and financial trials of Disneyland Paris; through the eyes, EARS and words of our 20 talented and faithful Disney bloggers, we have held our own soirée prior to the fête. Today's program and fanfare at Disneyland Paris seem so much more thrilling now that we better understand its past. Whether we are standing in the Marne-la-Vallée, London or Ontario, we are all participants. Most fittingly, our co-host Manda will "bring it home".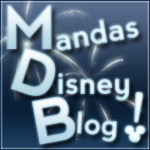 I can't believe it's the end of the "20 Days to 20 Years" series! I've has such a blast with my co-hosts Beth from
Pursuing the Magic
and Donna Marie from
DISTherapy
!
A whole range of Disney bloggers have taken part – one for each year Disneyland Paris has been spreading it's magic! To round up this wonderful series, lets take a look back at some major achievements of my 'home park' and most favourite place in the world – Disneyland Paris!
1992
12th April – Disneyland Paris officially opens! At this point it's known as the' Euro Disney Resort'. The resort includes the Euro Disneyland theme park, Festival Disney entertainment centre and 6 themed hotels – Disneyland Hotel, Hotel New York, Newport Bay Club, Hotel Cheyenne, Hotel Santa Fe and Camp Davy Crockett.
1993
12th April – Disneyland Paris celebrates it's 1st Anniversary by transforming Château de la Belle au Bois Dormant into a giant birthday cake! Also this year, Indiana Jones et le Temple du Péril opens! This attraction brought a 360-degree vertical loop to a Disney roller coaster for the first time ever and George Lucas himself inaugurated the ride on December 10th.
1994
26th March – Le Pays des Contes de Fées, a boat tour around miniature storybook sets, opens in the new Storybook Land within Fantasyland! Three days later, Casey Jr. – Le Petit Train du Cirque, a roller coaster circling the hills above the boat tour, also opens!
4th July – Les Mystères du Nautilus opens! The attraction took inspiration from both the original Jules Verne novel 20,000 Leagues Under the Sea and the 1954 Disney film adaptation.
1st October – Euro Disney Resort officially changes it's name to Disneyland Paris!
1995
1st June – Space Mountain: De la Terre à la Lune opens! Based on the Jules Verne novel De la Terre à la Lune, the attraction includes the "Columbiad" cannon, which recoils with a bang and produces smoke as each car passes through, giving riders the perception of literally being shot into space!
1996
29th June – Eurostar directs high speed rail services direct from London, Waterloo International and Ashford International to Marne-la-Vallée/Chessy, Disneyland Paris!
1997
Disneyland Paris launches it's 5th anniversary celebrations with Carnaval des Fous – a Hunchback of Notre Dame inspired Festival of Fools! Once again the castle was transformed, this time with a "Château des Fous" overlay, and a special Hunchback of Notre Dame parade was launched!
Festival Disney officially changes its name to the now better known, Disney Village!
1998
30th Match – The Wonderful World of Disney Parade premieres!
11th July – Tinkerbell's Fantasy in the Sky Fireworks premieres! In my opinion, one of the best firework shows to grace the skies at Disneyland Paris, it would go on to run for a record 7 years!
1999
28th March – The innovative 3D show Honey, I Shrunk The Audience opens!
31st December – Disney's ImagiNations Parade premiers!
2000
1st April – The Tarzan Encounter premiers!
2001
10th January – 100 Millionth guest welcomed
2002
16th March – Walt Disney Studios Park opens! It consists of 4 main 'studio lots' – The Front Lot, Toon Studio, Production Courtyard and the Backlot. The Disney Cinema Parade premiered on 2nd June.
Disneyland Paris also celebrates is 10th Anniversary! A giant birthday cake float was added to the Wonderful World of Disney Parade. Every day one child was chosen to ride the float and lead the crowd in blowing out the "candles" during many show stops along the parade route. The decoration of the Castle was a giant scroll, placed above the entrance, with the number 10 lighting up at night.
2003
5th July – Disney's Fantillusion premieres! This amazing parade has been running for almost 10 years!! It's comprised of 12 floats, 400,000 light bulbs, over 600 litres of dry ice per show for the "show modes" and 9 tonnes of batteries are used each evening … recharged for the next day!
2004
26th June – The Legend of the Lion King premieres!
2005
9th April – Space Mountain: Mission 2 opens! Instead of 'To the Moon and Back', the journey now takes guests beyond the Moon, to the very edge of our universe!
9th April – The PanoraMagique balloon opens at Disney Village!
16th July – In honour of the 50th Anniversary of the original Disneyland in California, Wishes: A Magical Gathering of Disney Dreams premiered in Disneyland Paris!
2006
8th April – Buzz Lightyear Laser Blast opens!
2007
1st April – Disneyland Paris 15th Anniversary Celebration is launched! As one of the most successful anniversary celebrations to date, it was extended from the original finish date of 31st March 2008 to 7th March 2009! The castle featured golden Disney characters on the turrets and spires, with Tinkerbell on the highest, each holding one of 15 candles that were 'lit' during a special 'Candelbration' ceremony daily. A giant illuminated gold plaque featuring 15 was place on the front of the castle, similar to the 10th anniversary scroll.
9th June – Crush's Coaster and Cars Quatre Roues Rallye open in Walt Disney Studios Park!
22nd December – The Twilight Zone Tower of Terror opens in Walt Disney Studios Park!
2008
22nd March – Stitch Live! opens! Guests can interact live with Stitch himself!
12th August – 200 Millionth guest is welcomed!
2009
4th April – Playhouse Disney Live on Stage! opens!
20th June – Starbucks Coffee opens at Disney Village!
2010
12th June – After closing in 1998, Captain EO returns!
17th August – Toy Story Playland opens in Walt Disney Studios Park! Over sized props from Toy Story make guest feel as small as toys! Attractions include Slinky Dog Zigzag Spin, Toy Soldiers Parachute Drop and RC Racer!
2011
25th March – The Molly Brown riverboat was rededicated! And this wasn't the only refurb! There were loads throughout the year in preparation for the 20th Anniversary in 2012! The most notable was probably that of Le Château de la Belle au Bois Dormant throughout the first half of 2011!
2012
The 20th Anniversary Celebrations bring an all new night time show to Disneyland Paris … Disney Dreams! Also, the all new Disney Magic on Parade! A new permanent meet and greet with Mickey Mouse! And special extended opening hours! I can't wait!! What we know so far, I
reported a couple of weeks ago
, but I cant wait to see the final results of all the hard work Disneyland Paris are putting in to make their 20th Anniversary unforgettable!!
That's a wrap! 20 years of awesomeness!!
THANK YOU SO MUCH to all the wonderful bloggers who too part!!
Check out all their awesome articles by clicking the banner below!
Before you go … please check out these brilliant videos summing up 20 years of Disneyland Paris!
Have a Magical Day Everyone!
A very special thank you to Manda and Beth, for their expertise, outreach and pixie dust. What a dream team!!




On September 1st, it's 30 Days to 30 Years…