To represent the year 2008, Beth and I present our Scottish co-host, Manda of Mandas Disney Blog and lover of all things Disneyland Paris!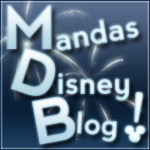 In 2008 the 15th Anniversary celebrations of 2007 were still going strong! I had been to Disneyland Paris the year before with my family and had an absolute blast! So I managed to convince my boyfriend that this is where we wanted to go for our holiday in 2008! 😛
This would be his first visit ever! He didn't expect much because he'd been to Walt Disney World in Florida as a kid and always thought of Disneyland Paris as a kind of 'scaled down' version of WDW. But boy did my home park prove him wrong! He loved it! So much so that we ventured back in 2010, and hope to visit again either this year or early next year – if only so he can stock up on Disney Star Wars figures collection! 😛
We'd been travelling much of the day when we arrived so one of the first things we did was catch come dinner! What better first meal in Disneyland than a Mickey Burger! 😛
Then we hit some of my favourite attractions – Big Thunder Mountain and Phantom Manor! On day 2 I dragged bf onto the Teacups … he had no idea you could spin yourself and all of a sudden they became a lot more appealing than they were 2 minutes before! I don't think I've ever spun so fast in my life! lol!
On day 3 I was determined to conquer Indiana Jones et le Temple du Péril! Here's a little secret for you – I had never been on any rollercoasters … ever … so bf decided it was time to face my fear! Indiana Jones seemed a good place to start because it's small and has a loop! I was terrified but I held his hand tight and ended up laughing the whole way round! Then he dragged me over to Space Mountain! This one was a bit more terrifying for me – becasue it's huge! But I ended up loving it and now it's one of my most favourite attractions! 😀 Afterwards I needed some time to get the feeling back in my arms and legs … lucky the Once Upon a Dream Parade was starting! We grabbed a great spot near Sleeping Beauty Castle!
Day 4 – next big attraction to be tackled – the brand new Tower of Terror in Walt Disney Studios! I had a topsy turvy tummy in the queue … and jelly legs when I came off! But it was awesome! Then it was time for Rock 'n' Roller Coaster! I was a roller-coaster expert by now after all! 😛
During our trip we also had dinner in Walt's – An American Restaurant! I'd recommend this to everyone and anyone! It's amazingly themed – each room represents a land in Disneyland Paris in an understated and classy way 🙂 Here's the desert we shared! Nom!
That's him pinching the marshmallows! 😛 Our last day was absolutely beautiful … I don't think we could have asked for better weather! We spent ages wandering around Alice's Curious Labyrinth and doing some last minute shopping along Main Street!
It's safe to say I made a Disneyland Paris fan out of Scott on this visit! Usually I'm the only person I know dying to go back all the time! But he keeps saying the same thing! 😀
What passion! Now you know why Manda is heading the cheerleading for 20 Days to 20 Years!! You must read her Series recaps, her Disney Lols and all the upcoming 20th Anniversary happenings. Be sure to follow her on twitter @mandasdisneyblog, and Facebook.
The countdown is speeding to a finish, and tomorrow, another Disney lover from the UK, Lewis @DVDisneyFan, will steer us towards 2009…