Welcome guests, to our 20 day preamble to the 20th Anniversary of Disneyland Paris! Whether you are an ardent fan, or another Disney Parks dreamer (as am I), you will want to celebrate Walt Disney's global accomplishments and visions realized. Today, my co-hosts Beth (@disneymom2jhe of Pursuing the Magic and The Magical Blogorail founder) and Manda (@mandadisneyblog and Mandas Disney Blog! creator) are thrilled to kick-off the series with Wendy, @MorenaSangre, of Your Highway in the Sky. It's 1992 once again…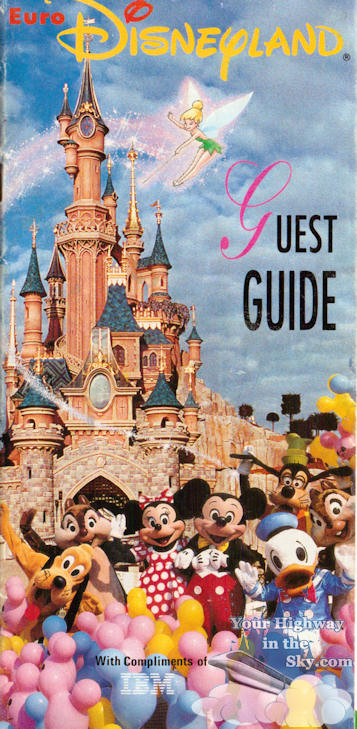 True love never dies. But it can fade into the background, be sidetracked…until one day you discover it again. And when you do re-discover that love? You'll find that the time between the first blush of passion and the re-discovery of love gives you new perspective, new appreciation, and new joy.
For me, Disneyland Paris was that rediscovery.
The year was 1992. Aladdin was in theaters, Right Said Fred was Too Sexy for Everything, Bill Clinton was running for president, and I was just finishing up my first year in college. As the academic year closed, I found myself packing for the place of my dreams – Paris. Our college offered a 3-week immersion program that awarded 3 credit hours, and I had talked my parents into letting me go on the trip.
Part of that trip was an excursion to the newly opened EuroDisney. The Disney park, only the second to open outside the US, was brand new. It had opened its gates on April 12, 1992, and we would be arriving in mid-May. I thought it was rather silly, honestly. We were going to Paris, home of centuries of culture…and they were taking us to EuroDisney? But, being a college student, I was willing to go – heck, it was "free" as part of the trip!
Before we arrived, we were regaled with stories of the park's woes. Some French public figures and labor unions had protested the park, considering it an "American degradation" of French culture. Furthermore, in the brief time the park had been open, attendance and popularity had fallen far below projections, and our instructors emphasized that we should appreciate our opportunity because it seemed the park's future was unclear.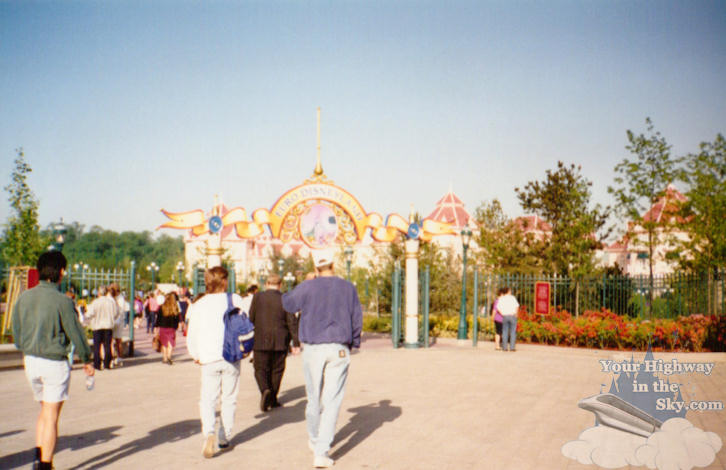 When we reached the park's front gates, all of that background dropped away. This was Disney.
EuroDisney was for me, in 1992, a strange and wonderful reintroduction to Disney. It indulged me with all the magical memories of my youth – Main Street USA, It's a Small World, Big Thunder Mountain. But this was not the Disney I remembered. It was richer, brighter, more "grown up" than those childhood memories.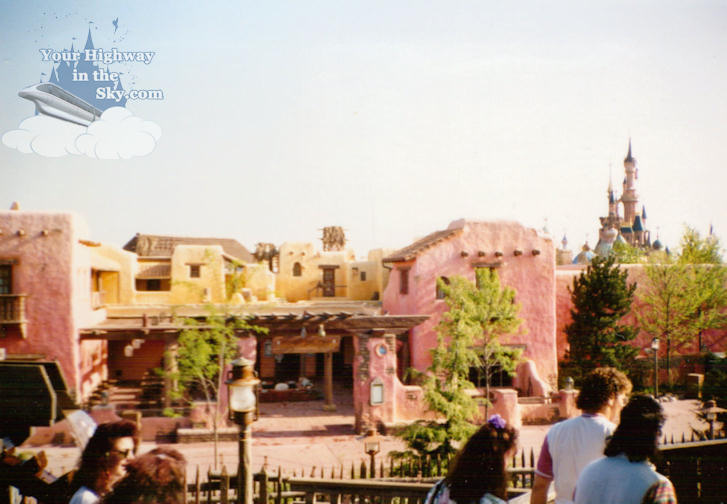 Walt Disney was a patriot, and the parks he created were deeply infused with a vision of America. Wandering the sparsely populated sidewalks of EuroDisney in 1992, I found that image of America, still present, but strangely exaggerated. In Frontierland, immaculately dressed cowboys stalked the streets, staging gunfights and issuing their challenges in accented English. In It's a Small World, I found myself faced with the inclusion of America in the parade of dolls, presented as row upon row of tiny shimmying Elvises and shaking Marilyn Monroes. This was America – in Disney translation.
It had been a long time since I'd been to a Disney park, and I found myself amazed that I had forgotten the intensity of some of the rides. I didn't remember the amazing section of Pirates of the Caribbean showing the captain's quarters and the darker consequences of the pillaging. Looking back, I know that I didn't remember it because I'd never seen it before. Disneyland Paris' Pirates of the Caribbean draws deeply on the California attraction, including numerous scenes omitted in the much abbreviated Florida version with which I was familiar. The ride was a little darker than the Walt Disney World version, a little more of a morality tale, and I loved it.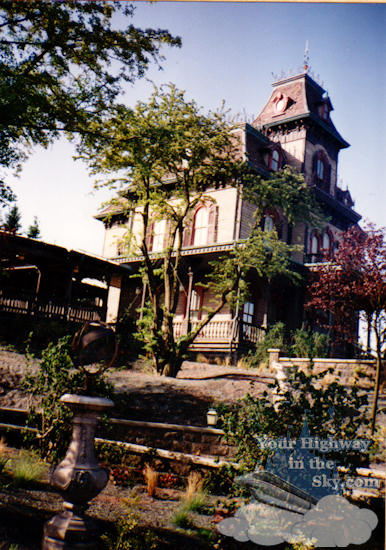 And then I found the haunted mansion. Dubbed the "Phantom Manor," Disneyland Paris' haunted mansion was relocated to Frontierland and incorporated deeply into the story of the area. The attraction, unlike its United States counterparts, has a thrilling, macabre story of the young daughter of an evil mine tycoon who falls in love only to have her father destroy her romance and, ultimately, her. The villain, the "Phantom" of the attraction's title, is pursuing guests, and the ghost of his daughter seeks to lead their escape.
In all honesty, I only got about half of that. The attraction's narration was in French, and I was busy being utterly amazed by the visuals. I remembered the Walt Disney World Haunted Mansion and this…wasn't it. Phantom Manor was haunting, elegant, dark, and as I found myself transported into a hellacious graveyard filled with the rotting corpses and dark spirits of a corrupt frontier town, darn creepy.
EuroDisney brought back all my fond memories of Disney and amplified them. The park was, in 1992, small, but it was beautifully themed and designed. From the Swiss Family treehouse to the brightly colored spirals of Wonderland, I loved it. But the one thing I wasn't prepared for, the one thing that brought tears to my eyes and reminded me of the love of my childhood was the castle.
For me, Cinderella castle at Walt Disney World had always been a mecca of dreams. As an aspiring princess, encountering a real castle had been utterly amazing. I had dragged my parents back and forth through its tunnel thousands of times, disappointed by the mosaics on its walls and determined that there had to be more. It was a castle dangit…where was the inside?
It was at Disneyland Paris.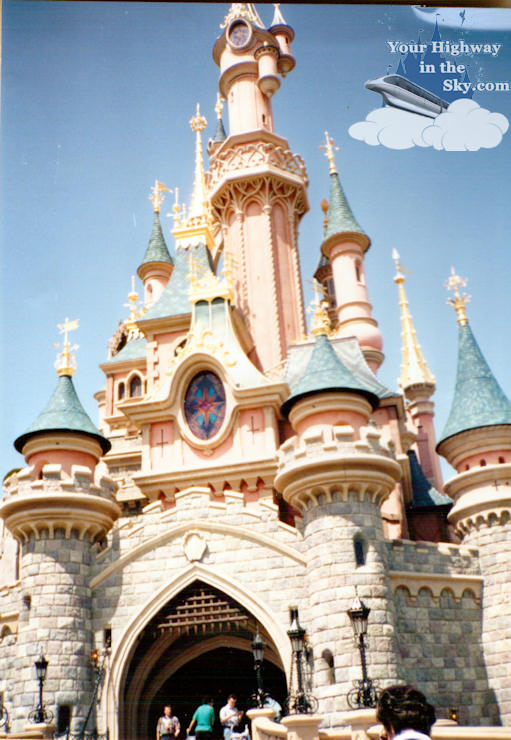 At EuroDisney, Sleeping Beauty castle, Le Chateau de la Belle au Bois Dormant, spiraled up against the blue French skies, a breathtaking sight amidst manicured green lawns and neat pathways. I snapped picture after picture as we approached, and then I discovered something that made my heart skip a beat. It. Had. An. Inside.
In 1992, the inside of EuroDisney's landmark castle was a dream come true. Up a staircase was a circular walkway supported by columns in the shape of stylized trees, detailed with tiny woodland creatures familiar from Disney's 1959 animated classic. Along the walkway, tapestries, statues, and stained glass windows re-told the classic tale in beautiful imagery supported by Tchaikovsky's music that had been repurposed for the film.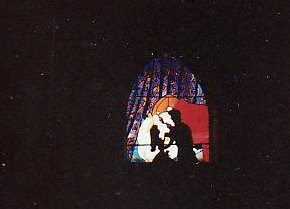 On the main level were a variety of shops, all selling medieval and "fairy tale" themed wares among gothic arches and groin vaulting. In the central Arcade, a jester juggled for guests, and Merlin stalked the flagstones, greeting children and performing magic tricks. I had reached fairy tale Valhalla.
And then I discovered the best part.
Through an arched doorway at one side of the castle was a dim staircase spiraling into the depths of the castle. Those brave enough to venture into its depths discovered a dark secret – the castle harbored a dragon.

I'll never know how long I stood there, watching that amazing creature under Sleeping Beauty's castle. It was unlike anything I could remember seeing. Far from a cute creature, it seemed to have emerged, not from a Disney film, but from a Hensen world like the Dark Crystal or Labyrinth. It brought back a sense of wonder and belief in magic I hadn't felt in years. Wandering the stone halls of the castle and watching its lurking draconian occupant, I fell back in love with Disney.
Standing at the back of the castle, looking past the sword in the stone to the evening lights of the carousel, I remember being happy and content. This was magic, and EuroDisney, of all places, had helped me find it again.
We stayed in the park until well after dark, and then headed out through the bright neon lights of its nighttime entertainment district – Festival Disney. I gawked, overwhelmed at the brightly lit restaurants and dim nightclub doorways, all spilling American music into the night. We didn't stop – our chaperones were eager to get us back to the hotels for an early start the next morning. In retrospect, I've always regretted that. Festival Disney was a short lived variation on Pleasure Island, and many of its elaborately themed venues are gone forever.
When I look back on EuroDisney in 1992, I remember a place of wonder. I know it was a place many French viewed as a cultural assault, with its signs in English (with French subtitles) and many of its cast members speaking "American" rather than French. But to an American college student, it was a place of beautiful theming – skull rock near Peter Pan's flight remains imprinted in my memory. It was a place of unexpected humor – the French guests on Thunder Mountain with us rode in polite silence, their arms on the lap bar. It was a place of excitement – my first ride on Star Tours was in the park.
But most of all, it was a place of renewal. It was the place my love of Disney grew up. More than any other experience, that visit to the newly opened EuroDisney in 1992 solidified my place as a Disney fan. Would I love to go back? Oh, yes. I want to share the park with my family, to see the new DiscoveryLand addition opened after my visit. But I know it won't be quite the same.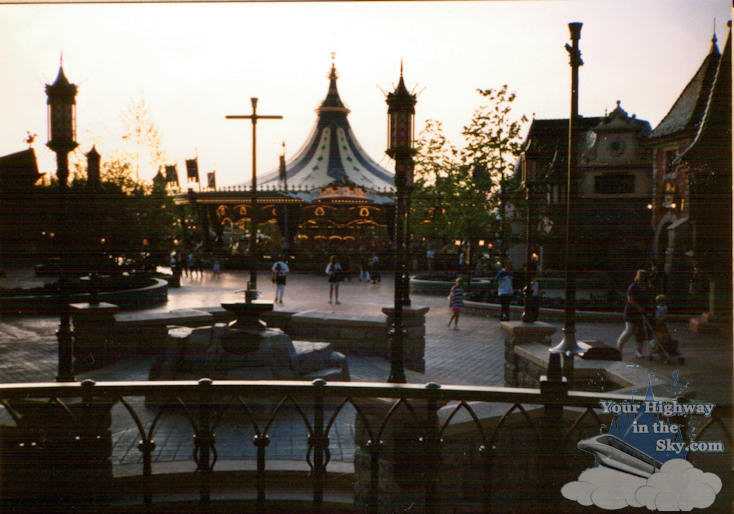 In 1992, EuroDisney was a freshly-minted Disney dream, shimmering in spite of protest and negativity, presenting the promise that magic transcends language. In many ways it caricatured its home country, but in others, it showed the best of what America represents. It presented a place of wonder and fantasy that endured longer than many skeptics in that year predicted.
And, for me, EuroDisney was a place of dreams, a place that reminded a cynical, single college freshman that childhood and adulthood were not binary opposites; they were part of the long, beautiful journey of humanity. It was a place of memory and of new dreams. It was the place where I re-discovered true love – the love of Disney.
| | | |
| --- | --- | --- |
| | | |
| | | |
| | | |
| Please return tomorrow, when we turn our attention to 1993! | | |